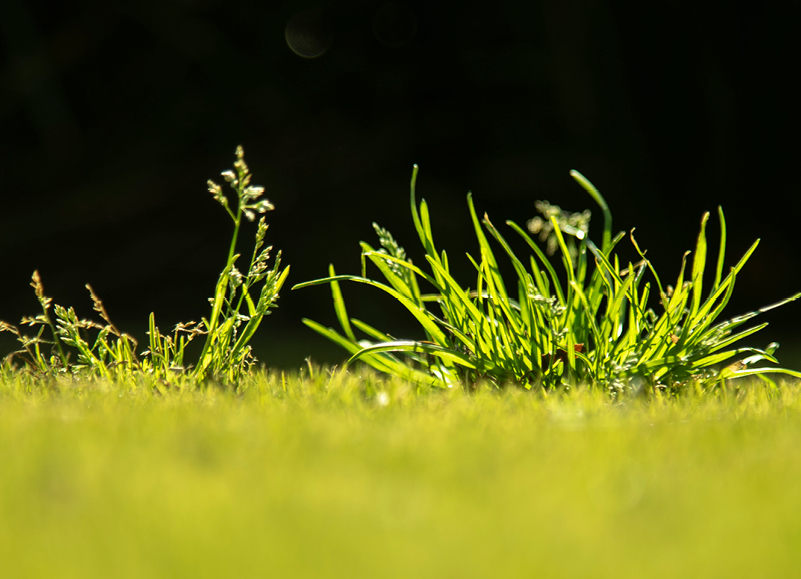 Pre-Emergents | Winter Grass
May 2, 2023
Winter Grass is one of the more frustrating weeds to remove. As winter grass grows it produces triangular shaped seed heads. These seeds make the weed easier to identify but are a sign that it has already started spreading for next season. In this blog, we look at what winter grass is and how you can stop it from spreading throughout your lawn.
Winter Grass
Winter Grass, botanically known as Poa Annua is a low growing weed that has soft, drooping green leaves, and grows in tufts with white seeds. This weed will start to appear when the average soil temperature drops to 16 – 17 degrees. For most areas, this is around mid to late Autumn or when you start to notice the cooler temperatures. When the soil temperatures drop below this, the winter grass seeds that are in the soil will start to germinate and grow.
How Does Winter Grass Spread?
As Winter grass continues to grow, it will produce triangular seeds heads. These seeds are then dropped into the lawn, or spread by wind, birds, underfoot… and will grow a new winter grass weed/plant.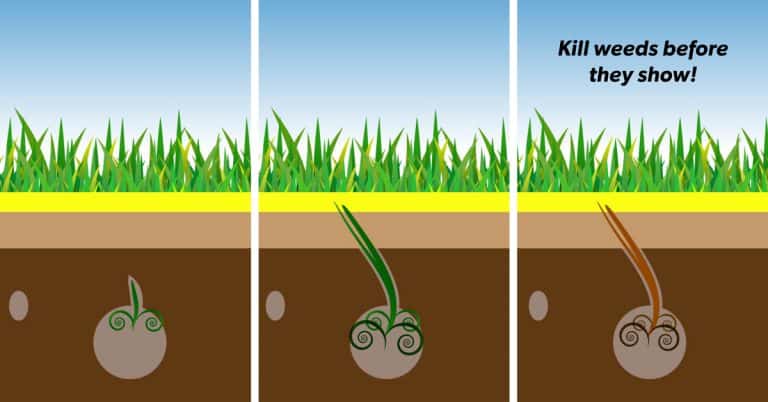 Prevention
Pre-emergent herbicides like Oxafert and Oxapro target seasonal weed seeds that are already in the soil, stopping them from germinating, before the weed starts to appear! Pre-emergents are best applied in mid to late Autumn, or when the temperatures start to drop in your location. This is when the seasonal winter weed seeds that are already in the soil will start to germinate.
You can also apply a pre-emergent in early to mid Spring, or when the temperatures are starting to rise to help stop seasonal summer weeds, like Summer Grass and Crabgrass/Crowsfoot.
How Pre-Emergents Work
Pre-emergents work by forming a barrier at the soil level, affecting the germination of any new seedlings. This prevents any new weeds from growing and spreading throughout your lawn for up to 12 weeks.
It is important to note, pre-emergents will only stop weeds during germination and won't stop any existing weeds that are already in the lawn. If you are wanting to target weeds that are already growing in your lawn it is best to use a post emergent herbicide for control.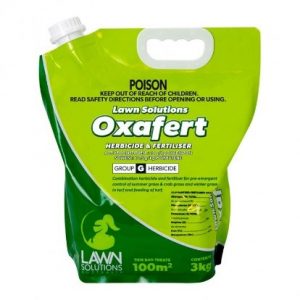 How to Apply Oxafert
When applying Oxafert and Oxapro, spread out the granules evenly by using a sweeping hand motion or apply with a fertiliser spreader for even coverage. Oxafert and Oxapro are best applied to dry foliage and watered in immediately after application.
Winter Grass in Your Lawn Already?
If Winter Grass has already infiltrated your lawn, it is best to use a selective post-emergent herbicide. Amgrow Winter Grass Killer is a selective herbicide safe to use on most varieties including Blue Couch, Common Couch, Bent, Buffalo (including Sir Walter DNA Certified Buffalo) and Brown top lawns. This is not safe to use on Kikuyu or Fescue lawns. Another post-emergent herbicide that is safe to use on Kikuyu lawns is Munns Winter Grass Killer.