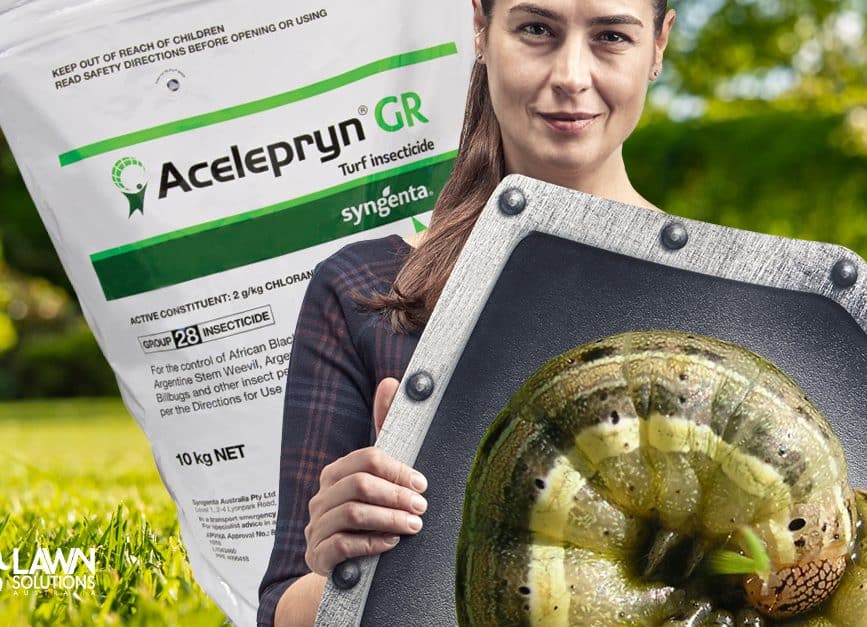 Preventing a grub attack | Acelepryn GR
August 31, 2022
Armyworm, African Black Beetle larvae (lawn grubs), Cutworm, and other grubs can all quickly cause extensive damage to your lawn. But what if there was a way you could prevent these damage causing grubs from crawling throughout your lawn? Well, Acelepryn GR is your answer!
Prevention is the best solution
Grubs will often target the healthiest looking lawn on the street as their next tasty meal. When lawns get attacked by grubs, they often will have already created extensive damage before being noticed. Following an attack, the lawn can take a few weeks or a few months to fully repair itself. Instead of going through the long process of nursing your lawn back to health, prevention is a far better solution.
What is Acelepryn GR?
Acelepryn GR is an insecticide that provides your lawn with 6 months of protection from grubs and caterpillars like Armyworm in one single application. Acelepryn GR works by targeting a specific muscle receptor that is common with damaging causing insects. Other non-target organisms like bees, earthworms, birds, fish, and mammals don't use the same muscle receptors, making it one of the safest insecticides on the market!
When should you apply Acelepryn GR?
As a general guide, Acelepryn GR is best used in September/October and March/April to prevent a grub attack year round. One application of Acelepryn will provide you with protection for up to 6 months. So, two applications per year will ensure your lawn is protected from grubs throughout the whole year.
How to apply Acelepryn GR?
For treating beetle larvae including African black beetle, Argentine Scarab, Argentine Stem Weevil larvae and Billbug Larvae, spread the granules evenly, 1-2kg per 100m2. We recommend using a calibrated spreader to ensure the granules are spread evenly to the lawn. You can also spread the granules by hand. After the granules have been spread out, give the granules a water in with a minimum of 3mm irrigation.
For Caterpillars including Cutworm, Armyworm, and Sod Worm, spread the granules evenly, 1kg per 100m2. Again, we recommend using a calibrated spreader for an even application. You can also spread the granules by hand. After application, delay mowing and watering for 24 hours. After 24 hours have passed, water the granules in.
Common signs of grubs
When grubs are present in your lawn, they will eat through your lawn's roots. As the turf can then no longer absorb nutrients, the grass will become dry and straw like. When there is an infestation, large areas of the lawn will be affected quickly.
How do I know if my lawn has grubs?
If you think your lawn may already have grubs, it is best to do a quick lawn grub test. To do this, mix a bucket of soapy water and pour it over the edge of an affected area. Keep an eye on it and after about 10 minutes or so, usually if there are grubs there, they will come to the surface. This is best done at dawn or dusk when grubs are most active.
What to do if you already have grubs?
If your lawn already has a grub infestation, it is best to act quickly to help prevent further damage. Delaying treatment can cause a substantial amount of damage as the grubs will move fast along the lawn while laying eggs and increasing in numbers.
After you have identified there is an infestation, we recommend using a fast-acting product for a quick knockdown. We recommend using Lawn Solutions Grub Guard or Battle Insecticide to get the job done quickly. When using insecticides, it is always best to check the label for application and safety instructions.
The best time to apply the treatment is in the late afternoon/dusk when the lawn grubs are most likely to be active. To ensure you have treated the full lifecycle of the grubs, apply a second treatment in 2 weeks. This will help ensure that any eggs that may be in the lawn have been treated, avoiding a second attack. If you do still see these grubs after this, reapply every 2 weeks until they are gone.